The 2022 Subaru Love Promise Community Commitment Award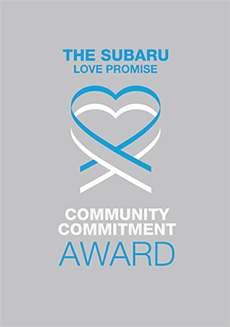 We've been nationally recognized for our dedication to our community and the Subaru Love Promise.
We're honored to receive the 2022 Subaru Love Promise Community Commitment Award. This award nationally recognizes Subaru retailers who are making the world a better place while demonstrating an outstanding commitment to supporting passions and causes in local communities. These efforts are focused in important areas such as the environment, community, health, education, and pets.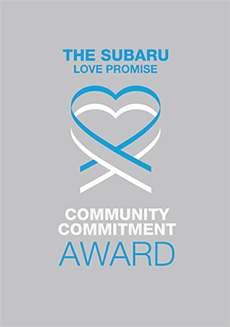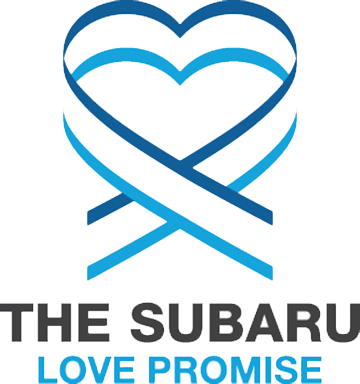 What is the Subaru Love Promise?
Subaru and our retailers believe in making the world a better place and the Subaru Love Promise is our vision of respecting all people. This is our commitment to show love and respect to our customers and to work to make a positive impact in the world.
How is Young Subaru dedicated locally to the Love Promise?
Our Love Promise can be seen in various partnerships with local charities and non-profits. We're grateful for the opportunity, not only to be a part of our community, but to serve it as well.
South Ogden City Parks and Recreation
Intermountain Health Care
Love Promise Stories from Young Subaru
Subaru and Young Subaru believe in making a positive impact on the communities in which we live and work. We uphold that belief through our Love Promise Community Commitment. Every month, we select inspiring stories from customers and partners from around our area who strive to support our collective commitment and feature them here
Weber High School Food Pantry - Jennifer B
Weber High School opened a food pantry at their school to help students with food insecurity gain access to food when it is needed. In Weber County alone, there is about 19.5% of children experiencing food insecurity. This includes students needing a quick snack during school as well as those that come in frequently having the chance to take pantry items home to their families. Young Subaru had the opportunity to go to our local store and pick up food for this pantry. This included things like protein shakes, fruit snacks, granola bars, trail mix, and apple sauce. When the food was delivered to the school, it was amazing to see the student involvement and having them join us in filling up the pantry.
---
Lantern House Non-Perishable Goods - Stacey G
During the winter months, it gets chilly here in in Ogden, Utah. The Lantern House is a refuge for those needing food, shelter, and critical emergency services. Young Subaru along with Subaru of America teamed up to keep these residents warm and stomachs full. We were fortunate enough to donate many blankets and socks. Along with that, our store took donations for non-perishable food items. Customers, employees, and those just passing through came in to donate to the cause. After we had gotten many donations, we went to our local store and purchased five carts full of food. On one frosty Friday morning, the Young Subaru team loaded up the trailer with these supplies and took them to the Lantern House. Thank you again for giving us the opportunity to serve those in our local community.
---
Backpack Packing Event - Weber School D
Young Subaru along with Young Caring for Our Young donated all the materials like notebooks, pencils, pens, and backpacks to those needing them for the school year. After those donations were gathered we packed them up into backpacks and fortunately we ended up putting together 100 backpacks full of school supplies for the kids in Title 1 Schools. There ended up being 60 Elementary and 40 Junior High students that were able to get the backpacks in Weber School District.
---
Benny's Second Chance Thanks to Young Subaru! - Shannon E
Hello, hoomans! I'm Benny and boy, do I have a story to tell you! I came to the Humane Society of Utah in mid-September, hoping to find a new home. Over the last two years, I've been hospitalized twice due to an infection in my legs. I have severe allergies, too, that have to be treated with antibiotics. When I came to HSU, I showed sensitivity to being handled by strangers, although I grew to love the foster team there so very much! I just needed a little time to warm up to people, but sometimes I'd get overly exuberant while playing ball. Fortunately, HSU worked with me through positive reinforcement training, and I improved with time. Because of my situation, I'm considered an 'underdog", so it took a little longer for me to find a home. In October, Young Subaru offered to promote and support underdogs like me through their Subaru Loves Pets program. Thanks to their support, I can now report I'm healthy and happy in my new home!
---
Rosco the "Underdog" - Zane J
Zane, a loyal customer of Young Subaru for years came in one day with his "underdog" Rosco. He told us he rescued "Rue" from a breeder who was going to let her starve since she had an injury and was the runt of the litter. Zane said that she instantly became the best dog he's ever loved. Rue has a spinal injury which doesn't allow her to walk so Zane has to carry her everywhere. We knew we wanted to help Rue and Zane, so Young Subaru's staff donated their time and funds to help purchase a dog wheelchair for Rue, as well as every dog accessory Subaru offers. Zane told us this changed his life as well as Rue's. Young Subaru is more than just a car company. For the full story, please watch this video.
---
Treehouse Museum Check Donation - Skylar F
The Ogden Treehouse Museum is a place near and dear to our hearts here at Young Subaru. They are a local reading-oriented museum that encourages kids to "step into a story" via hand-on activities and exhibits. Some of these exhibits include a diner where the children can wait on customers or flip burgers on the grill. Another is shopping at a grocery store or even building castles and playing with knights! Young Subaru had the wonderful opportunity of presenting the Treehouse Museum with a check to help with any upcoming events or future exhibits.
---
12,500 Pantry Packs - Skylar F
Young Subaru along with America First Credit Union, Young Caring For Our Young, and the rest of the Young Automotive Group got together to help children in the state of Utah and Idaho. 1 in 5 kids are food insecure. That means that they might not have something to eat on the weekends when school lunch and breakfast aren't available. Each store in the Young Automotive Group got together and assembled 500 pantry packs each. These packs are meals used by schools to sustain youngsters over the weekend. We had such a great time working together at Young Subaru to put these together for the children!
---
Get Out and Live - Skylar F
GOAL is a local company that participates, volunteers, and spectates at recreational events, programs, and activities. They want those in the local community to thrive and have a healthier body, mind, and spirit. Young Subaru along with Young Caring for our Young got together a donation of $14,787.11 for the company. One of our biggest mottos here is to #ThinkYoung. By doing that, we are using our vehicles to get out and do the things we love. By GOAL supporting that same idea, we are helping those in the communities around us go and do the things they love!
---
10,000 Pantry Packs - Skylar F
In September of 2020, Young Subaru participated in a Young Automotive group-wide pantry pack event. We supplied and put together a total of 10,000 pantry packs for students that attend Ogden and Weber schools. These pantry packs are bags of food that students take home for the weekend so they can get the nourishment they need while being away from school. Without these packs, they would not have food to eat.
---
Helping Russy Get His Vision Back - Skylar F
At Young Subaru, we have something special in common with our customers: Our love for animals runs deep. When our customer, Rhonda, Russy's foster mom, reached out to us and told us the story about Russy — we knew we needed to help. We asked our customers and employees, if their finances allow, to donate to help Russy get the surgery he needs to get his sight back. Together, we ended up raising $1,465 for Russy and the New Beginning Animal Rescue!
---