The 2021 Subaru Love Promise Community Commitment Award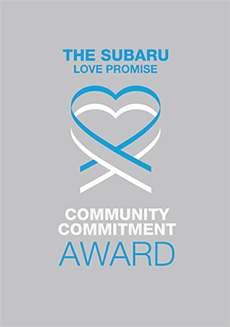 We've been nationally recognized for our dedication to our community and the Subaru Love Promise.
We're honored to receive the 2021 Subaru Love Promise Community Commitment Award. This award nationally recognizes Subaru retailers who are making the world a better place while demonstrating an outstanding commitment to supporting passions and causes in local communities. These efforts are focused in important areas such as the environment, community, health, education, and pets.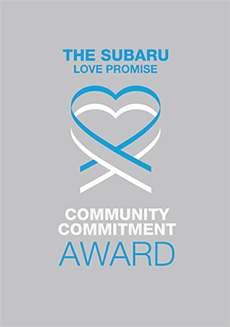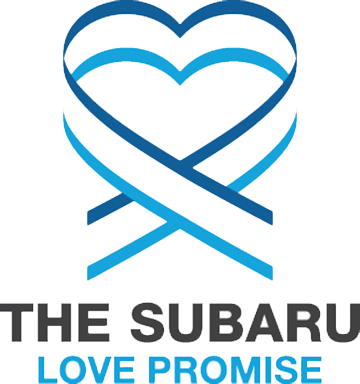 What is the Subaru Love Promise?
Subaru and our retailers believe in making the world a better place and the Subaru Love Promise is our vision of respecting all people. This is our commitment to show love and respect to our customers and to work to make a positive impact in the world.
How is Young Subaru dedicated locally to the Love Promise?
Our Love Promise can be seen in various partnerships with local charities and non-profits. We're grateful for the opportunity, not only to be a part of our community, but to serve it as well.
South Ogden City Parks and Recreation
Intermountain Health Care
Love Promise Stories from Young Subaru
Subaru and Young Subaru believe in making a positive impact on the communities in which we live and work. We uphold that belief through our Love Promise Community Commitment. Every month, we select inspiring stories from customers and partners from around our area who strive to support our collective commitment and feature them here
Get Out and Live - Skylar F
GOAL is a local company that participates, volunteers, and spectates at recreational events, programs, and activities. They want those in the local community to thrive and have a healthier body, mind, and spirit. Young Subaru along with Young Caring for our Young got together a donation of $14,787.11 for the company. One of our biggest mottos here is to #ThinkYoung. By doing that, we are using our vehicles to get out and do the things we love. By GOAL supporting that same idea, we are helping those in the communities around us go and do the things they love!
---
10,000 Pantry Packs - Skylar F
In September of 2020, Young Subaru participated in a Young Automotive group-wide pantry pack event. We supplied and put together a total of 10,000 pantry packs for students that attend Ogden and Weber schools. These pantry packs are bags of food that students take home for the weekend so they can get the nourishment they need while being away from school. Without these packs, they would not have food to eat.
---
Helping Russy Get His Vision Back - Skylar F
At Young Subaru, we have something special in common with our customers: Our love for animals runs deep. When our customer, Rhonda, Russy's foster mom, reached out to us and told us the story about Russy — we knew we needed to help. We asked our customers and employees, if their finances allow, to donate to help Russy get the surgery he needs to get his sight back. Together, we ended up raising $1,465 for Russy and the New Beginning Animal Rescue!
---
Wrapped Up for Winter - Skylar F
On December 4th, 2020 Young Subaru got together with Stacey of the Lantern House. With the help of Subaru of America, we donated blankets to help keep the residents of the Lantern House warm for the winter. The Lantern House is located up the street from Young Subaru in Ogden Utah. They support the local community by offering shelter for men, women, and families. They also provide breakfast and lunch for the community and dinner for Lantern House Residents. On top of that they help those that need assistance obtaining important legal documents, bus tokens, health care, guide clients as they transition from shelter to a more permanent housing solution. Here at Young Subaru we are proud to help support those residents even if we couldn't hand them out individually due to COVID-19.
---
Subaru in the Community Love Promise - Tyson W
Tyson Walker the general manager of Young Subaru noticed a need in his community and decided to act. Young Subaru has donated to multiple schools across their community.
---
Young Subaru Gives Love to Cancer Patients - Stacie K
It was a beautiful June morning when the dedicated employees of Young Subaru met with LLS staff and volunteers to deliver notes of encouragement and warm blankets to the patients at Ogden Regional Hospital. The hospital staff joyfully greeted the packed-to-the-brim Subaru Outback's as they pulled in front of the hospital entrance, ready to show cancer patients at Ogden Regional that Subaru truly Loves To Care. As boxes, craft kits, and care cards were unloaded; smiles, hugs and handshakes between the grateful hospital staff and Subaru employees were exchanged. "This partnership is the highlight of my year!" Tyson Walker Subaru General Manager commented, "I love the opportunity we get to help our local patient community, especially since it hits so close to home for our Young Subaru team." Joining Tyson at the blanket delivery were two Subaru employees who recently lost their young family member to Acute Myeloid Leukemia. As these two employees helped to carefully unload blankets, care cards and craft kits, they were visibly moved. This blanket delivery meant so much more to these employees than just giving away items to patients. Delivering blankets represented giving back; giving back to the hospital that provided treatment for their loved one, giving back to the employees at the hospital that stood by their side throughout the fight, and giving back strength and comfort to the patients continuing their battle. "It was amazing to see the love and emotion coming from the Young Subaru employees," commented LLS employee, Emily Milam, "They truly love their employees and their community. The fact that we at LLS get to be a part of that community is inspiring and keeps me excited to work every day to find a cure for blood cancers."
---
Young Subaru Connects With The Cancer Community - Emily M
On June 25th, employees from Young Subaru teamed up with The Leukemia & Lymphoma Society to deliver warmth and hope in the form of 80 blankets and special notes to cancer patients at Ogden Regional Hospital. "I made a point to come to today's delivery because it's very special to me as my family is dealing with our own cancer diagnosis." Lisa, an employee at Young Subaru remarked, "My 5-year-old granddaughter is battling a rare form of leukemia called Acute Myeloid Leukemia. Whatever I can do to spread a little bit of hope to other families dealing with the same thing my family is going through- I will do it!" Lisa and other Young Subaru employees talked with hospital staff and volunteers as they made their delivery. They discovered that one volunteer at the hospital, Carol, was a blood cancer survivor herself. As Lisa gave Carol a blanket they shared a moment of mutual experience and struggle. "These blanket deliveries are my favorite part of the year," commented Tyson Walker, Young Subaru manager, "because of the connection we get to make with people like Carol. We love being able to help our local patients however we can!"
---
Subaru Delivers More Than A Meal - Nancy G
Our Subaru is definitely very eye-catching! As the Senior Center Supervisor, I love hearing from people of all ages and lifestyles that they saw "The Subaru" parked across the street or visiting their neighbor. Visibility is important with Meals on Wheels because it helps to bring awareness and with awareness comes an acknowledgement of our needs. Delivering a meal to the neighbor across the street is just the beginning of taking care of our client's needs. Arranging for snow removal, lawn care, housekeeping or other needs is another part of the picture. That neighbor may not have known that their neighbor was in need but now they are able to offer snow removal or lawn care. Just another piece of the necessary services that help to keep a senior in their own home. We have kept our Subaru in the spotlight the past few months to draw people in to fundraising activities and to encourage those questions that result in new volunteers. The Subaru was outside the front door welcoming guests to our March for Meals BINGO nights throughout the month of March. A large banner inside the building and the Subaru logo on advertising for the event helped those participating to be aware of how amazing our partnership is with Subaru. Another fun event was our second annual Soap Dish Derby. The Subaru hauled most of our supplies to the Meals on Wheels fundraising event that included food for sale and the entrance fees from all of the racers. A picture staged at the beginning of the event drew much attention from our community and resulted in three new volunteers following the event! Pop up banners gave credit to Subaru while also encouraging volunteering and participation at the Senior Center. Our Subaru has become an essential piece of the services that we provide.
---
Our Subaru is Making a Difference - Nancy G
Having our Subaru to deliver meals for the Holidays was truly such a blessing for our Meals on Wheels clients. Watching the faces of these sweet people as I would pull up in their driveway was something I won't forget.They couldn't believe how many meals I was able to fit in the back! We delivered nearly 500 meals in one afternoon! We are so grateful for such an amazing gift. Subaru is truly making a difference in the lives of the home bound clients that we serve.
---
Ogden Trail Network support by Young Subaru - Luke D
Young Subaru in Ogden Utah and Subaru made a very generous donation of $25,000 to Ogden Trails Network. The OTN is a City charted advisory committee, which for over 23 years specifically focuses on the development and maintenance of Ogden Utah's extensive system. The members work with hundreds of volunteers and City personnel to fulfill its mission to "Develop a world-class trail experience for the betterment of Ogden". Ogden's trail system offers year-round adventure for hikers, bikers, & climbers. The trails vary from paved parkways following the Ogden and Weber Rivers to aggressive single track perched high above the valley. The system connects world-class climbing & bouldering areas, 3 kayak parks, a bike-jump park, wetlands, a nature park, breathtaking waterfalls, a pristine lake, a blue ribbon fishery, numerous city parks, botanical gardens, and it's historical site Ft. Buenaventura all to an exciting and historic downtown. This donation helped the OTN purchase much needed equipment and fund restoration projects years in the planning.
---
Delivering More Than Blankets! - Emily M
On July 7th, the amazing employees at Young Subaru joined the employees from the Utah chapter of The Leukemia & Lymphoma Society to deliver hope to cancer patients at Ogden Regional Hospital. 80 blankets, 10 kids craft kits, and 50 care cards were donated to the hospital in the hopes that these items would bring joy to the many cancer patients receiving treatment at the hospital. As Young Subaru employees began to unload their 2017 Outback, a hospital patient named Karlene walked up to Tyson Walker, Young Subaru General Manager, to ask what was happening. As he explained about Subaru's partnership with LLS and the blanket donation, her eyes lit up. Karlene was walking into the hospital to receive treatment for her breast cancer. All who witnessed the exchange were filled with emotion as Tyson handed Karlene a blanket, care card and expressed his support to her. "This is always a favorite of mine to deliver blankets to cancer patients in need of support and love." said Tyson. "Cancer affects everyone and this is just a small way to let our local patients know they have lots of love and support especially from their friends at Young Subaru!"
---
Subaru and NWF Love the Earth! - Karen N
The children loved enhancing our garden in the front of the school with the so generously donated items.
---
2016 Annual Pet Adoption a Huge Success! - Winifred O
The 5th annual Share the Love pet adoption at Young Subaru was a major success. More than 150 dogs and cats were adopted out during the two-day event this year. A HUGE thank you to South Ogden Animal Services and the ASPCA for another great event!
---
Young Subaru Gives Back - Emily M
On June 22, Tyson Walker, Young Subaru of Ogden's General Manager, made a huge impact at Ogden Regional Hospital's Cancer Treatment Center. Tyson, along with several other Subaru staff members and LLS representatives, drove to Ogden Regional Hospital in a 2016 Subaru Outback overflowing with blankets for patients in the Cancer Treatment Center. Hospital staff joined Tyson and his crew for the presentation. They were overjoyed by the generous donation and impressed by the quality of the blankets. "When you are going through treatment, even on a hot day, there is nothing like a nice warm blanket to comfort you," commented Elizabeth Later, Ogden Regional's Chief Nursing Officer. Tyson then went above and beyond by personally delivering blankets, offering a word of encouragement and a smile to patients currently going through treatment. "Having had a grandfather pass from cancer, it was awesome to be able to pay it forward," remarked Tyson, "A blanket to us might not be much but to these patients can mean everything and making their day was such a humbling experience. Cancer effects all of our lives and for Subaru to run a program that makes a difference just shows their commitment to being different and truly caring." The patients, as well as the hospital staff, were so appreciative of Tyson and Subaru's time and thoughtful gift.
---
Young Subaru loves the Earth and Butterflies! - Jana C
Join us for our Subaru Loves the Earth initiative during the month of April! We are partnering with the National Wildlife Foundation for the Butterfly Heroes Program to raise awareness and education on the declining population of the monarch butterflies. We will have a butterfly habitat planter at the store to help the monarchs and other pollinators. Stop in to learn more about the program and pick up some complimentary milkweed seeds to do your part at home!
---
Subaru Loves Pets Partnership - Tyson W
The Wasatch Front Subaru Retailers and Young Subaru never want us to lose our pets! On Feb. 14, 2015, the Humane Society of Utah and Young Subaru hosted the first quarterly Subaru Loves Pets Event for the year. Free Avid microchips were offered to the public as a community service to increase the likelihood of owners finding their lost furry loved ones. Bringing awareness to the plight of homeless animals in Utah and encouraging the public to microchip their pet as a safe, permanent form of identification, the first Subaru Loves Pets Event was a great success. Over 700 Utah pets now have the means to find their way home in the unfortunate event the pet goes missing. The Humane Society of Utah is grateful for the sponsorship and support from Subaru and looks forward to future collaborative events to service our community and our beloved pets. To view a video recap of the event visit: http://youtu.be/z-IKA7-tOV4
---
Young Subaru Supports Students - Chris Z
Weber School Foundation partners with Young Subaru each year. Our students participate in a coloring contest in conjunction with adopt-a-pet. Young Subaru donates $5.00 for every contest entry. This year our entries were less than previous years, but because Young Subaru loves kids they still made a very generous $7,000 donation. This money will help pay for educational field trips to Treehouse museum, Dinosaur Park and Ogden Nature Center. Thanks Young Subaru for all you do!
---
Young Subaru Hosts 3rd Annual Pet Adoption - Julia K
2014 marked the third annual Share the Love pet adoption at Young Subaru in Ogden, UT. Over two hundred dogs, cats, and even a few rabbits have found forever homes at these yearly adoptions. Partnering with South Ogden Animal Services and the ASPCA, and also donating money to prepare the animals for adoption, Young Subaru is dedicated to helping animals find homes.
---
Service center love story - Corey M
We have a 2011 Outback that was experiencing mechanical problems. We took our vehicle into the Ogden, Utah location and was helped by Kerry. There was a lot of diagnostic tests run and after a week of testing, they found out that the problem was a sensor. Kerry was really great to work with. He was always in contact with us and said he would help in any way he could. When we went to get our car a week later after being in the shop, we found out that Kerry had worked with the representatvie to get our repairs covered. Winner Winner Chicken Dinner! We are finishing our basement and right now is not a good time to have a $2,500 repair bill. Thank you Kerry for your hard work. Also, Jared in the shop was very helpful as well when Kerry was absent.
---