Young Subaru Parts Center
(888) 422-0279
Hours
Monday - Friday 8:00 AM - 6:00 PM
Parts Request
Directions
Get Directions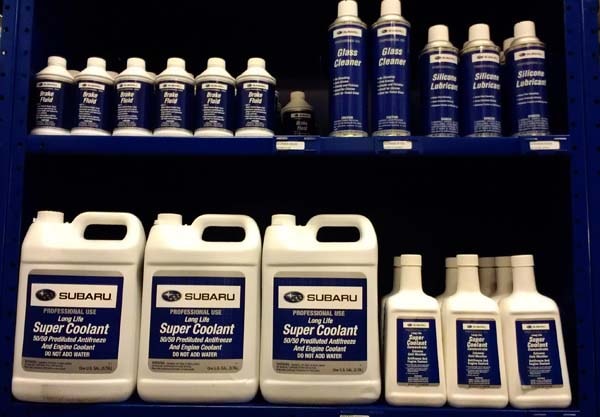 Provide protection and enhance performance with Genuine Subaru Automotive Chemicals
When it comes to the fluids and other chemicals you put in a car, there's only one way to be sure you're meeting the same high standards of original Subaru equipment: insist on Genuine Subaru Automotive Chemicals.
Subaru now offers a full line of quality tested products, all approved by Subaru for use in Subaru vehicles. From coolant and automatic transmission fluid to brake cleaner and fuel injection cleaner, these premium product are engineered to assure maximum performance and trouble-free driving.
And, because they're competitively priced, they offer premium performance and peace of mind without higher cost.
Genuine Subaru Non-Chlorinated Brake Cleaner
This low-VOC formulation provides excellent brake cleaning performance without chlorinated solvents, or the threat of waste oil contamination. Approved for use in every state except in California
14 oz. aerosol
SOA868V9110

Genuine Subaru SCAQMD Brake Cleaner
Specifically formulated to provide excellent brake cleaning performance and meet the stringent VOC requirements of the SCAQMD area of California.
14 oz. aerosol
SOA868V9115

Genuine Subaru Brake Fluid*
This special DOT3 formula is designed to maintain a high boiling point even in the most severe operating conditions. It offers superior protection against metal corrosion, has superior high temperature stability and does not form harmful sedimentation.
Meets Subaru OEM Specifications
12 fluid oz.
SOA868V9220

Genuine Subaru Climate Control Cleaning Kit (foam Evaporator Cleaner & Refresher and A/C Intake Refresher)
Designed to clean and deodorize the A/C system, this kit eliminates the odor-causing mold, mildew, bacteria and fungus typically found in the evaporator case and elsewhere.
A foaming cleanser flushes contaminants from the evaporator case, while refreshers remove odors from ductwork and freshen the vehicle's interior. Kit includes:
Foam Evaporator Cleaner and Refresher (18 oz. aerosol)
A/C Intake Refresher (4 oz. aerosol)
SOA868V9315

Genuine Subaru CVT C-30 Oil*
The only approved oil for all Subaru Lineartronic tm CVTs, this high performance formulation delivers superior oxidation stability, low-temperature flow, anti wear protection, plus excellent torque transfer capacity between metal components and anti-shudder characteristics.
Genuine Subaru Factory Fill Automatic Transmission Fluid and Power Steering Fluid*
To address the individual needs of both an automatic transmission and power steering system, engineers have worked to provide both superior shifting and steering system characteristics in one fluid. Recommended for use in all pre-2006 MY 4EAT Subaru vehicles, this unique fluid contains an advanced additive package that provides optimum shift quality over a wide range of operating conditions while maintaining superior pump flow characteristics needed by the power steering system in all Subaru vehicles.
Meets Subaru OEM specifications.

Anti-wear additives help to protect the transmission from copper corrosion and excessive wear.
Friction modifier additives maintain a high viscosity index that allows for smooth shifting and smooth steering in temperature extremes.
Anti-foaming additives maintain peak power steering performance.
Compatible with all automatic transmission and power steering internal seals and O-rings.
1 quart bottle
SOA868V9240

Genuine Subaru Factory Fill Automatic Transmission Fluid HP and Power Steering Fluid*
This new formula is specifically designed for use in pre-2006 MY Subaru vehicle 5EAT, and all post-2006 MY and later transmissions. Special friction modifiers and other additives ensure stable, precise operation over long periods of use. It offers superior temperature extreme fluidity for smoother shifting and maintains proper fluid pressure in hot and cold weather. Maintans superior pump flow characteristics needed by the power steering system in all Subaru vehicles.
Meets Subaru OEM specifications
1 quart bottle
SOA868V9241
Genuine Subaru Factory Fill Long Life Coolant*

To meet the needs for optimum coolant performance, Subaru engineers approved a superior, high quality coolant displaying outstanding advantages over the competition. Designed for today's aluminum engines, it contans an organic corrosion inhibitor instead of abrasive silicates for excellent corrosion protection.

Meets Subaru OEM specifications

No possibility of silicate gelling which causes radiator plugging and overheating

1 gallon bottole

SOA8689210

Genuine Subaru Super Coolant 50/50 Prediluted Antifreeze*
Formulated for long-lasting corrosion and rust protection for all cooling system components, this prediluted antifreeze/engine coolant prevents the use of poor quality water that can lead to cooling system failure.
Requires no additional water to dilute
Eliminates need for additional corrosion inhibitors
Compatible with non-metal surfaces
1 gallon bottle

SOA868V9270