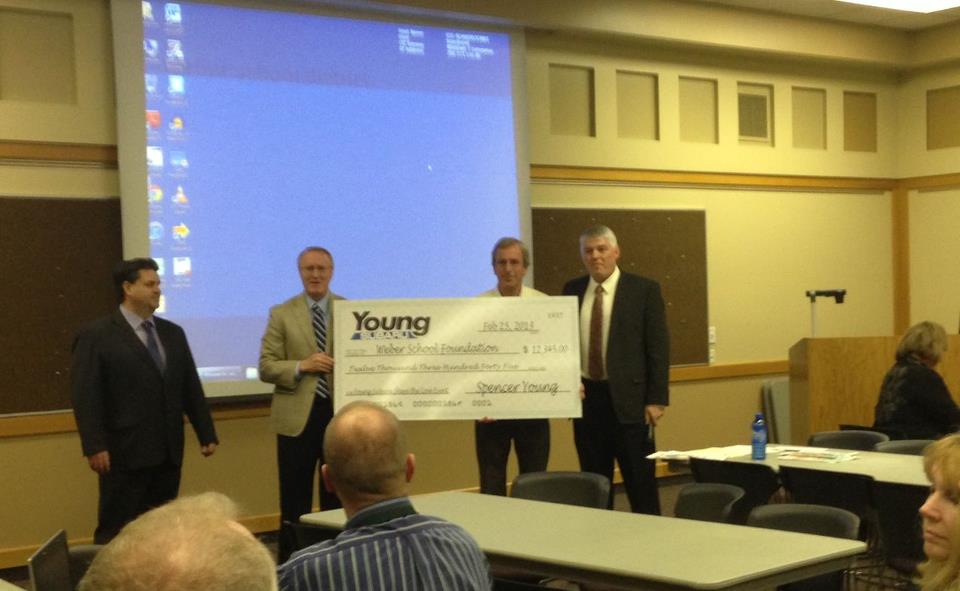 South Ogden, Utah-February, 2013. Last year, in the spirit of the holidays, YoungSubaru and the Weber School Foundation joined forces to raise $12,345 for the Weber School District. The donation was presented to the Weber School Foundation on Monday, February 25 at the Weber School Foundation building.
"The Weber School Foundation's mission is to raise and provide funds that will be used to enhance education for students in the Weber School District. Each year, we have seen continual reductions in the amount of funds our schools have to work with in educating our children," says Chris Zimmerman, Weber School Foundation Executive Director. "The Weber School Foundation provides funding to teachers for innovative teaching programs in the classroom. This partnership and donation from Young Subaruwill ensure adequate funding to assist many more of our teachers in their endeavor to provide the best for our students."
The funds were raised from Young Subaru's Share the Love Event on December 1, 2012 that included a coloring-contest fundraiser and a huge pet adoption. The free event received huge support and response from the local community including students, teachers, and pet-owners.
"Young Subaru, provided a partnership where the funds go right into the hands of the individual teachers, ensuring our teachers have the supplies they need to teach our students," says Zimmerman.
Weber School Foundation
Founded in 1976, the Weber School District Foundation is an independent, non-profit institution dedicated to the educational enrichment of students in the Weber School District. Over 98% of donations to the Foundation each year goes directly to enhance the education of our students. Over the past thirty years, the Weber School District Foundation has provided the students and the teachers of the Weber School District with hundreds of thousands of dollars per year in teacher supplies, educational tools, etc. Visit www.weberschoolfoundation.org to learn more.

Go to
to read the Standard Examiner's story. to read the story from the Standard Examiner.