---
Since the unveiling of its concept at the New York Auto Show in April, speculation regarding the details of the 2015 Subaru WRX has been abounding. The revealed design deliberately looks like a sports coupe, with an aesthetically-pleasing flair missing from past models.
Gone is any resemblance to the Impreza economy car (though the cars share modified versions of the same chassis underpinnings). Previous WRX models were faster and more powerful than suggested by their appearance; with toned-down body styles and near-supercar performance. The 2015 WRX concept boasts a lower, sleeker, wider shape, and a bulging hood that makes no effort to mask its horsepower. It also features a carbon fiber roof, enhancing its already low center of gravity.
Though Subaru has been vague about details - saying only that the concept has a turbo-charged engine and all-wheel drive - the new WRX is rumored to feature a 2.0 liter four-cylinder Boxer engine boasting somewhere between 280 and 320 horsepower (the current model has 265). The powertrain of the STI trim is equally as enshrouded in mystery, but will likely carry the same 40-horsepower increase above the standard model.
Subaru was spotted testing a seemingly tame prototype at The Nürburgring in Germany earlier this year, and, more recently, on Mulholland Drive in California. There is a great deal of buzz surrounding the practical appearance of the prototype; some insist it's a test-mule intended to be a decoy, while others believe it's a (much) more docile production version of the 2015 WRX.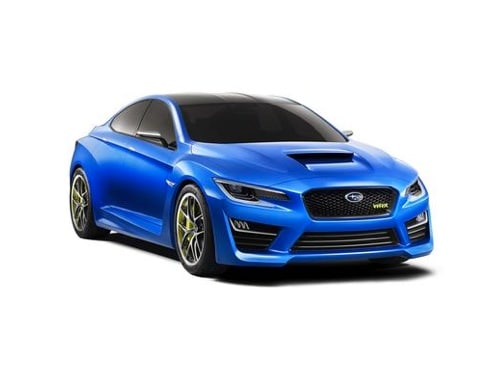 Above: 2015 Subaru WRX concept car, unveiled at the 2013 New York Auto Show in April

Below: Mysterious Subaru prototype spotted in Germany and California earlier this year