---
Rick Gerber, the Service Manager here at Young Subaru, lives his life on the edge. Last weekend, while satisfying his penchant for adventure on a camping trip to Escalante, Utah, he stumbled across a family of fellow campers struggling to mend a broken tent pole. Rick was able to assist with the repair of their pole -- by using only an aluminum can and some medical tape-- and then spend some time getting to know them.
It was soon discovered that the Turner family -- Peggy, a real estate agent; Peter, a ski designer; and Jillian, a student at the University of Utah -- were recent Young Subaru customers; in fact, they brought their vehicle in for its 15,000 service before heading out on their road trip. This ensured that their getaway was safe and uninterrupted (with the exception of one minor tent pole setback). They were making use of the all-wheel drive and cargo space in their new 2012 Subaru Outback by packing it with gear and heading to the mountains.
Impressed with their laid-back demeanors and the overall good company they offered, Rick asked the Turners to accompany him on a scorpion hunt after the sun went down. Unbeknownst to them, the area was crawling with the bioluminescent arthropods; which they captured using a black light and a walking stick. Rick ate two scorpions (after cutting off their poisonous tails), but didn't chew them enough to comment on their flavor. The Turners declined his invitation to do the same, but Rick thinks they had a good time anyway.
Not only were the Turners fun, outdoorsy, and possessors of impeccable vehicle taste; they were also hospitable. They allowed a group of complete strangers to share their campsite with them that evening after they encountered the party of French bikers with nowhere else to stay. The exhausted bikers were on a tour from San Francisco to Colorado, and had been riding 60 miles per day.
The Turners were a perfect embodiment of a Subaru family. It's always great to see our customers spending time with their families in the great outdoors. Rick had a terrific time getting to know them, and hopes to run into them on future Subaru adventures.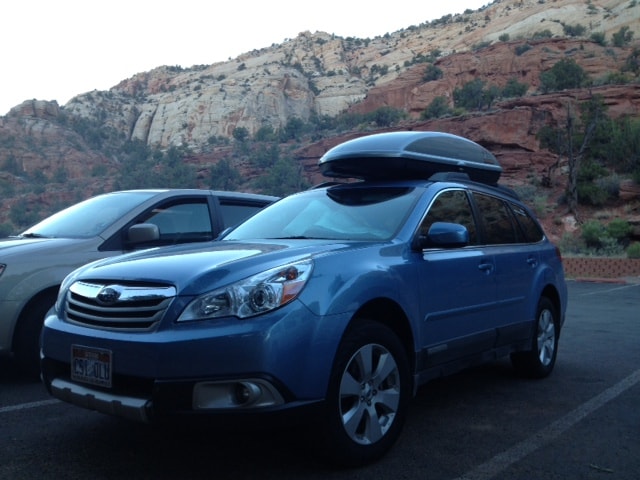 The Turner Family 2012 Subaru Outback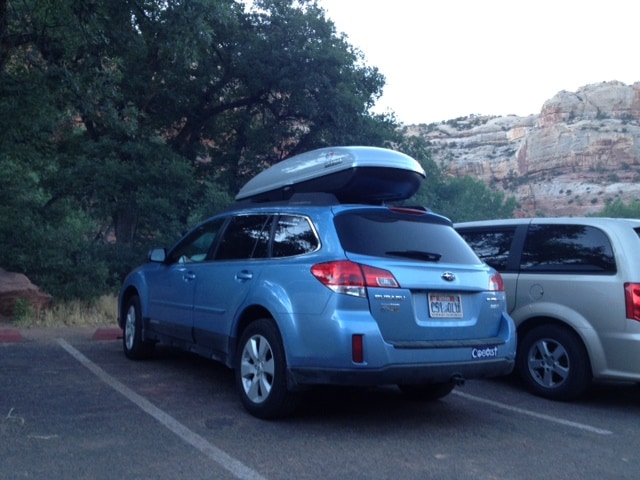 Always keep Young Subaru in mind for your vehicle (and tent pole) service needs.